KALEO
AND
ELISE
Working Together
As Teachers
As teachers, Kaleo and Elise have developed a process that totally engages the body, mind, and spirit. This inner alchemical process entices one to enter into the subconscious realm of the body through Chi Kung and hypnotherapy/guided imagery, then to express its deep wisdom through creative art forms. The process promotes self awareness, empowerment, and the transformation of self and community.
They have extensive teaching experiences in the Bay Area at John F. Kennedy University (Arts and Consciousness Department), Wisdom University, LucasFilms, Acupressure Institute, Chi Nei Tsang Institute, Luminous Body Integral School of Energy Medicine, California Institute of Integral Studies (Public Programs), Sofia University, Naropa University-Oakland, Haight Ashbury Free Clinic Jail Psychiatric Services, and University of Creation Spirituality, as well as nationally and internationally.
View Kaleo's résumé.
View a calendar of classes and events.
As Artist and Poet
As artist and poet, they have exhibited their work together at such institutions as Claudia Chapline Gallery, Reno Arts and Culture Commission, Matrix Gallery, Euphrat Museum of Art, Los Angeles Korean Art Center, San Luis Obispo Art Gallery, John F. Kennedy University Gallery, and many other venues.
As Writers
As writers, they coauthored:
Faces of Your Soul: Rituals in Art, Maskmaking, and Guided Imagery with Ancestors, Spirit Guides, and Totem Animals (North Atlantic Books, 2006)
Chi and Creativity: Vital Energy and Your Inner Artist (Blue Snake Books, 2007)
Healing Buddha Palms Chi Kung, Manual by Elise and Kaleo Ching, and Gilles Marin (50 pages) with video of Gilles, 2009
Sharing the Maskmaking Journey: A Faces of Your Soul Teacher's Manual (88 pages, 50 color photos, Kaleonahe Press, 2011)
The Creative Art of Living and Dying: Your Journey of Renewal Through Stories, Qigong Meditation, Journaling, and Art, (North Atlantic Books, coming summer 2014)
See Kaleo and Elise's books and videos.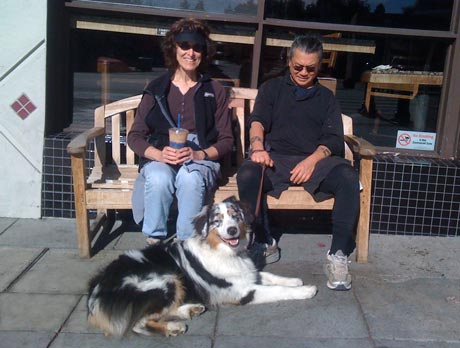 ---
Elise Dirlam Ching BSN, MA, CAMT, CCHT
Healer, Poet, Author
Elise has a BS Degree in Nursing, a Master's Degree in English (Ball State University), and a Master's Degree in Transpersonal Psychology (John F Kennedy University). She is a Certified Acupressure Massage Therapist and a Certified Clinical Hypnotherapist. For 25 years, she worked as an RN in the San Francisco County Jail. Elise is a published and an award-winning poet, a practitioner of hatha yoga and Chi Kung (25 years), and a lover of the vanishing wild beyond the edge of the road.
---
Kaleo Ching MA, CAMT, CCHT
Healer, Artist, Teacher
"It's about Chi and Creativity." Mom and Dad met during World War II when he was stationed in Hilo, Hawai'i. Mom was raised on the Pāhala sugar cane plantation (Big Island) and Dad in Kalihi Pālama and Tin Pan Alley (O'ahu). During the war, dad served in the Army in the Pacific, then after many years retired as an ordnance teacher for the Army. During the Vietnam war in the '60s, I'd come home from high school and sometimes watch Dad practice teaching on the kitchen table how to dismantle, clean, and put back together an M14 rifle, an M60 machine gun, or a bazooka. I'd cautiously touch the metal pieces and was awed by the elegance of their sculptural forms but at the same time frightened by their power to kill. I imagined my fathers' students cleaning their weapons in humid jungles in Vietnam and sadly wondered which ones would not be coming home.
Mom had a passion for playing her 'ukulele and singing the many Hawaiian songs she learned growing up on the plantation. They were the happiest times when Dad and my sister would joyously and spontaneously
hula
to her music.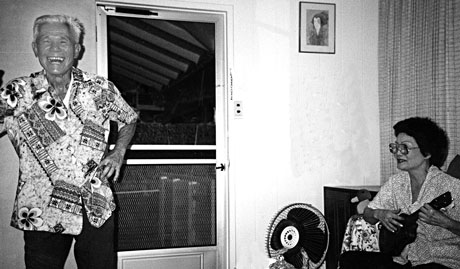 I loved washing the dinner dishes with my sister and singing "Alika" along with Auntie Genoa Keawe on the radio. Our home was always filled with the sounds of Hawaiian music and the voices of KCCN Hawaiian radio disk jockeys J. Akuhead Pupule, Sam Kapu, and Crash Kealoha. In Hawaiian music you can feel the fragrant tropical breezes, smell the ocean and its abundance, and feel the kindness of island people and their aloha for the 'āina (land). My siblings and I were raised to value 'ohana (family), kōkua (helping others), and aloha (love, compassion). Being born and raised in Hawai'i, I was embraced by its spirit and beauty, the aloha of its people, and the ocean and its qualities of the feminine depth and mystery.
Listening to Hawaiian music, Mom's conversations in Korean with Grandma, Dad speaking Cantonese with Grandpa, and the Filipino neighbors with the goats next door and speaking pidgin English with friends and family, I grew up fascinated with sounds and expressions. In the melting pot of cultures in the Hawai'i of my youth, one learned to communicate creatively with sounds, intuition, and body language.
From 1967 to 1971, I served in the U.S. Army Security Agency and was trained in German language and culture at the Defense Language Institute in Monterey, CA. I distinctly remember Herr Becker, one of our German teachers because he was compassionate and soft-spoken but had an inner strength. Most of us GIs were 19 or in our early 20's and we'd be awed as his stories transported us to the fierce tank battle in the freezing cold on the Eastern Front where he had been a German Panzer commander. I can still see blood pouring from his left upper arm where it was shot off as he used an oily rag and his right hand to help stop the bleeding before the medic reached him. I wondered how fate and circumstances led men into battle and chose which ones survived.
Stationed in West Berlin, I worked as a German transcriber. I was fortunate and lived with a loving German family, did volunteer work in German orphanages, and travelled throughout Europe and North Africa. I discovered a love of cultures, art, and teaching children. After Army service, thanks to the G.I. Bill, I earned a BFA in Art at the University of Hawai'i in 1977. As an artist, I discovered a passion for drawing the human form. A smudge of charcoal, a jerk in a line, or a sagging shape expressed psychoemotional layers of the body. In 1976 I started studying Tai Chi and loved feeling the muscles, tendons, and inner organs of my body breathing, ebbing and flowing, in rhythm to Hawai'i's ocean of Chi.
After receiving an MA in Art (University of New Mexico) and a Fine Art Lithography Certificate (Tamarind Institute), I exhibited my art and taught printmaking at the University of Houston, Clear Lake, Texas. In 1989 I moved to the Bay Area, California. Elise and I met, fell in love, and married. Together we practiced Tai Chi and Yoga and explored Buddhist, Christian, and Shamanic ways. Our love of Tai Chi encouraged us to study alternative forms of healing, and we eventually became Certified Acupressure Massage Therapists. Longing for the islands and my cultural roots, I also studied Hawaiian Lomilomi Massage on the Big Island, in Puna, which has a relationship with Ka'ū, home of my mother's family. Elise and I made many annual pilgrimages to the Big Island to study Lomi, bask in the energy of my mother's birthplace, visit ancestors' graves, and honor Pele, Ke Akua O Pōhaku Wela (Goddess of fiery stones).
Now, as a teacher and artist, painting abstracts of the human body on canvas or creating masks, I experience teaching and art as spiritual, healing, and transformative processes. As a therapist massaging and sculpting muscles and tissues and holding acupressure points and listening to their rhythms and the push/pull, hot/cold, rough/smooth energies in the body, I understand the body as a 3-dimensional art piece alive with stories, histories, and dreams. It talks. It emotes. It responds to touch. At times its subconscious realms want to be seen and heard, and the invitation is extended to journey deeper within.
Most profound healing occurs when the subconscious, physical, mental, emotional, and spiritual selves are involved. After much study, Elise and I became Certified Clinical Hypnotherapists to delve into subconscious realms. In our coteaching "art as healing" and Chi Kung classes, we integrate techniques of hypnotherapy, induction, and meditation to enhance and deepen the transformative processes.
Elise and I longed to dive deeper into our spiritual and Chi Kung practices so we studied Taoist alchemical Chi Kung and Yijing Medical Qigong. I also studied Chi Nei Tsang (internal organ massage).
In my private practice I integrate Yijing Medical Qigong/acupressure, Hawaiian Lomi massage, and hypnotherapy to create a physical, spiritual, and shamanic healing journey for the client. Elise and I teach Lomi massage classes and Chi Kung classes at the Acupressure Institute in Berkeley, LucasFilm/ILM in the Presidio, and Acalanes Adult Ed in Walnut Creek.
I am living my life based on the values of 'ohana (family), kōkua (giving back to the community), and aloha (love, compassion) that the islands and my ancestors instilled in me. I always feel my ancestors' presence and embrace, their love. I see their smiles. I know they await me. Mahalo Ke Akua Mau Loa, aloha nō.
With much gratitude to my teachers for sharing their wisdom:
Fine Arts and Lithography

University of Hawai'i: Don Dugal, Jeff Dunn, Helen Gilbert
University of New Mexico and Tamarind Institute: Garo Antreasian, John Sommers

Tai Chi and Chi Kung

Jeff Bolt, Mantak Chia, Cynthia Eaton, Bruce Frantzis, Bernie Langan, Gilles Marin, T.Y. Pang, Peter Ralston, Lenzie Williams, John Zhuang

Yoga

Richard Rosen, Rodney Yee

Hawaiian Lomilomi

Dane Kaohelani Silva, Maka'ala Yates 

Acupressure

Acupressure Institute: Joseph Carter, Michael Gach, Alice Hiatt, Brian O'Dea

Hypnotherapy

Hypnotherapy Training Institute: Cheryl Canfield, Randal Churchill, Marlene Mulder

Chi Nei Tsang

Mantak Chia, Gilles Marin

Yijing Medical Qigong

Zen Priest Suzanne Friedman
---
Site photography by Kaleo, Lee Fatheree, Rob Lee, Charlie Lucke and John Pearson
Photographs on this page of Elise and Kaleo, and of Elise, Kahu, and Kaleo, by Lyn 'Unihipili Hilliard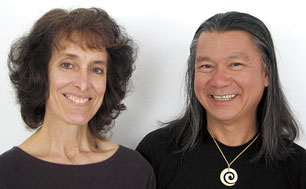 Mahalo aku nō māua
iā Ke Akua Mau Loa,
i kona alaka'i 'ana mai
me ke aloha
With deep gratitude to the Divine for guidance and love