BODYWORK
Meridian-Lomi Massage
Enjoy a blend of applied Chi Kung and organ-meridian work and Hawaiian gentle to-the-bones kneading, carving, gliding srokes. It's the rhythm of the ocean, deep and penetrating, gentle and swaying, cleansing and nourishing in a soothing and dynamic way. Meridian-lomi embraces aloha and affects the physical, energetic, emotional, and spiritual bodies. Partially or fully clothed.
Sliding scale $80 to $70/hour
Video: Hawaiian Lomilomi Massage with Chi and Creativity
Pohaku Wela (Hot Stones) Massage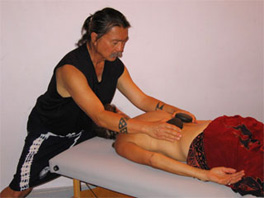 Ancient stones glide, carve, and massage the landscape of your body as inner fluids flow as currents of the ocean.
$110/hour
Sacred Journeying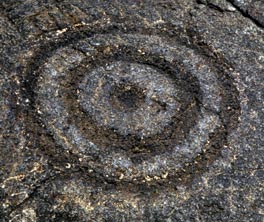 Hypnotherapy is a sacred journey into subconscious realms, lush with wisdom, ancient or buried, just waiting to be unearthed. Regression, current life, and progression hypnotherapy helps release emotional blocks and trauma, brings clarity and understanding, and enhances your relationship with your self/Self, others, and the Divine. Hypotherapy, combined with 5 Element and Yijing Medical Qigong, enhances healing processes, such as those related to illnesses, pregnancy, birth, and pre- and post-surgery.  
Sliding scale $80 to $70/hour
Yijing Medical Qigong/Acupressure
Taoist practices of gentle touching with energy to release stress and blockages, balance emotions, activate meridians, and increase the flow of Chi, Blood, and inner rhythms of the body. Benefits the immune system, increases clarity and energy, and promotes healing.
Sliding scale $80 to $70/hour
Private Chi Kung Lessons
Chi Kung is designed to center, integrate and harmonize the Body, Mind, and Spirit. It reduces stress, increases energy, fortifies the immune system, and balances emotions. Also learn Chi energy healing techniques, self-help acupressure points and meridian flows, and basic Traditional Chinese Medicine theory.
$100/hour
Kaleo Ching
M.A. (Studio Art)
CAMT (Certified Acupressure Massage Therapist)
CCHT (Certified Clinical Hypnotherapist)
Chi Kung practioner (35 years)
"Your touch is both strong and gentle, along with being prayerful. It is sacred and of the earth at the same time. I really enjoyed the combination of Lomilomi and Chi Kung, the strength and the subtlety, both active and calming; wonderful Yin/Yang balance. The styles are a perfect marriage in your hands. You communicate deeply with the tissues; both attentively and kinesthetically. Your work feels great and is respectful. While you combine two styles, you make them one art."
Joseph Carter, L. Ac, director of the Acupressure Institute, Berkeley California
"The lomilomi massage was fantastic. It goes very deep and yet was not invasive. It was penetrating, deep and soothing at the same time. My neck has not been so flexible in quite a while. It was a nuclear meltdown. I came in with a lot of stress, and left feeling very relaxed. You have a wonderful touch, good technique, and awareness of how to combine these."
Surja Jessup, MS, CHT
"I am truly grateful for the beautiful and healing session yesterday. Your gift was unbelievable – more than words can say. I can say that I slept better than I have slept in a long time; my body was at peace as was my mind. I also have incredible energy this morning – I do have to say I had to 'ground' myself several times after the session – I was literally 'floating' everywhere. You have such a gift from the God of your understanding. I am keeping Amma close to heart – her image and her voice will be a wonderful reminder to bring peace to myself – my spirit. Bless you, Kaleo, for your presence and the gifts you bring to me and so many others. Love and Prayers – and Aloha."
Tricia
FOR APPOINTMENTS
Walnut Creek, California
510.685.3788

Sliding scale offered to students, senior citizens, and low-income families
Gift Certificates available
24 hour notice required for cancellation
A hynpnotherapist or masseur is not a licensed medical or psychiatric practitioner. Services complement the medical arts licensed by the state and are non-diagnostic. Medications are not prescribed.